Guest Blog Post By Scott Schneider, the "young, obsessed, frequent flyer."
In my previous blog entries, I provided tips to better navigate your way through the intricacies of air travel to improve your satisfaction and be better advantaged through the varying situations and staff that you will face. This month's blog entry will examine the business class experience on top carriers, and best of all using accumulated points to feel like you are flying for free.
Similar to international ratings for a hotel, airlines have a one to five star rating. Skytrax is an independent company that awards a star rating to an airline based on an established criteria and rating scheme which assesses areas ranging from ground handling to experience in the air. As Skytrax states, "The key factor behind 5-Star status is an airline's ability to deliver a truly consistent and high quality of Product and Service…A 5-Star Airline ranking is centered on identifying airlines whose front-line staff deliver a true and consistent 5-Star standard of service." There are only six airlines that Skytrax classifies as five-star. The airlines include Asiana, Cathay Pacific, Hainan, Malaysia, Qatar, and Singapore Airlines. It is noteworthy that with the exception of Qatar Airways all of these airlines are based in Eastern Asia. While there are airlines that are not on this list that provide phenomenal service, I have had memorable and positive experiences on four, five-star airlines though mostly in economy class. On all, I have had comfortable seats with sufficient legroom, gourmet meals, and generous amenities. The majority of my experiences have been on short haul flights within Asia but I am certain on longer intercontinental routes the service on these carriers would only be more impressive.
This past month I had the opportunity to use some of my frequent flyer miles to book a Qatar Airways business class award ticket. My routing was Dubai-Doha-Singapore-Bangkok-Koh Samui. Although I could have traveled nonstop to Bangkok or Singapore on alternative airlines, I really wanted to experience the fabulous Qatar Airways, and in particular, its famous Premium Terminal. The terminal is an extended concept on the traditional lounge and it consistently receives awards and ranks as one of the top ten best business class lounges in the world.
Background and check-in
My journey began in Dubai. I was originally booked on a three-class Airbus A330 plane, but a few weeks before travel, the aircraft was switched out to a two-class Airbus A320. While this plane is sold as business class on longhaul routes, it is sold as First class for flights within the Gulf States. Therefore, this segment was upgraded to first class with no additional mileage collection. The upgrade meant priority first class baggage tags, an increased baggage allowance to 40 kg (88 pounds) from the original 30 kg (66 pounds), and a more impressive lounge departing Dubai. There were two check-in lines for premium passengers and several more for economy, although the economy line had only three people waiting. The check-in was smooth though the agent had to print two separate baggage tags and fuse them together since only three cities could be printed on one tag and I had four. I was also handed a lounge invitation for Dubai, fast track immigration from Dubai, and a premium transfer card for Doha, which incidentally, was printed on my ticket jacket as well.
Dubai Airport
The fast track immigration line took about ten minutes whereas the regular line looked like it would have taken at least 30-45 minutes. Inside the terminal, the gates and restaurants were located upstairs while downstairs there was a massive duty free shopping area that resembled a large shopping mall. I decided to go directly upstairs to the lounge since I had checked out the shopping when I transited through Dubai several days earlier. The lounge had numerous dishes of hot food, a selection of wine and liquor, and Baskin Robbins ice cream. To me, ice cream in a lounge is always an exciting event! There was a massive jar of dates at the check-in desk as well. The bathroom had amenities including toothbrushes, combs, and shaving kits, and shoeshine machines which I thought was a nice touch for a contracted lounge.
Onboard Dubai-Doha
Boarding was not as civilized as I would have anticipated since there was just one line and no separate queue for premium/elite passengers. After getting settled in, we were presented with freshly squeezed orange juice or water. The orange juice, served in a glass with a large slice of orange, was delicious. The lead flight attendant also made a formal introduction as well as introducing the other first class cabin attendant who would be serving us on our fifty-minute flight. We were then offered a choice of newspapers followed by a hot towel. Once the safety procedure was concluded and we started taxiing, a pre-departure service commenced in which the flight attendants came down the aisle offering dates from a beautiful bowl and Arabic coffee poured from an exquisite dallah.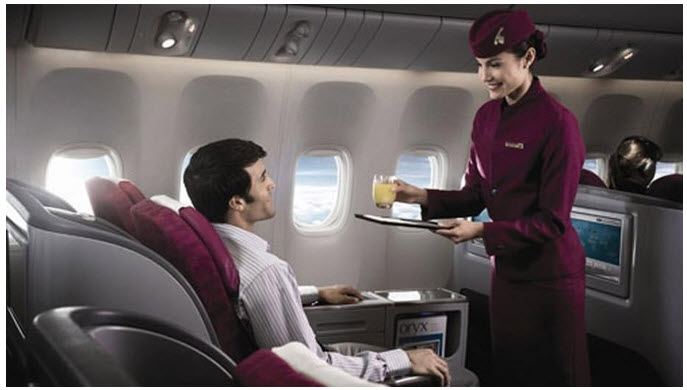 After takeoff, the flight attendant took our orders for a "seasonal green salad" topped with either chicken tikka in mint sauce or with teriyaki salmon. I opted for the chicken which had two tender pieces of chicken breast that had come off of a skewer. How authentic! Dessert consisted of an orange mousse. The entire snack was delicious and for a fifty-minute flight, more than sufficient, especially when comparing it to first class in the United States where a flight lasting an hour might include a choice of beverage and fruit or a snack bar at best.
Transit in Doha
Once the aircraft was parked at the gate, the Qatar flight attendant made sure to draw the curtain immediately after the seatbelt sign went off. Many international airlines like to give their premium customers privacy after landing to gather their belongings and exit off the plane in a calm, collective manner before economy class passengers are allowed to even enter the premium cabins. Uniquely, Doha airport does not have any jetways for any airline, thus everyone is required to be bussed to and from their flight. While several passengers had attendants waiting with signs to be taken into limos, the rest of us were shown to our shared luxury bus.
Qatar Premium Terminal Doha
All business and first class passengers use the exclusive Premium Terminal. Unlike the traditional airline lounge hidden away in the busy terminal, this is a completely separate terminal building that can only be accessed by premium Qatar passengers. This building is not anything massive for a terminal, but then again, the regular terminal in Doha is the size of a small airport in the United States, at least when compared to major hubs such as Frankfurt, Charles de Gaulle, JFK/Kennedy, or Los Angeles. The terminal contains a small duty free area and gates which include a few burgundy leather armchairs, chairs and tables that one might find in a living room rather than the traditional rows of attached metal and leather chairs that one usually sees at an airport. On the upper level of the premium terminal is the lounge space. There is a children's room and video game area outside the lounge entrance. The lounge is separated into first class and business class sections. Even though I arrived on a first class ticket, Qatar Airways determined my lounge access privilege by the departing flight, so I was directed to the business class side of the lounge.
The business class lounge features four distinct dining areas—a huge buffet of hot and cold entrée items and gourmet salads from around the world, a full-service deli, a food area with menus like a restaurant, and a dessert and full cocktail bar. The deli presented a wide selection of bread that rival any fine boulangerie, a large menu board with options for Panini sandwiches, and a plethora of pre-made salads. The staff was consistently courteous, competent, and professional to take orders and deliver drinks and food as requested. I ordered a Panini that was certainty restaurant quality. I ended the meal with some delectable pastries.
The rest of the lounge contained large leather chairs and tables, a napping area with long leather lounge chairs, reclining massage chairs, and a smoking room, which did not allow any odors to permeate the air into non-smoking areas. The bathrooms included showers and had amenities for the long haul traveller, such as toothbrushes/toothpaste and shaving kits. Surprisingly there were only three sinks for the entire men's room. I would have expected a few more, but there was not much of a backup. Additionally, washcloths were provided instead of paper towels which was more in line with what one would find in an upscale hotel bathroom rather than in an airport lounge.
Of note, the lounge is busier in the overnight hours than during the day. It is a twenty-four hour facility. I cannot imagine what could have been added in the first class lounge but a spa and sleeping rooms would be a good start, which apparently exist on that side.
Boarding
There were no boarding calls for the flight, but on entry to the lounge I did notice the lounge attendant took note of what I was wearing, when I showed her my boarding pass for entry, presumably so she could find me if I did not arrive at the boarding gate in a timely manner. Upon walking to the gate, I was directed to a luxury bus, similar to that which I had boarded when I deplaned from the last flight. There were a few other passengers already on the bus and we left promptly after I got settled in. The bus trip lasted for what felt like ten minutes, but sitting on a large comfy seat made the journey quite pleasant, compared to when I flew out of Doha earlier in economy and was standing up in a very crowded bus to get to the plane. Interestingly, business class passengers board through the second exit door using a covered set of stairs while economy passengers board through an open staircase using the door closest to the tail of the plane.
Onboard Doha-Singapore
Once onboard I was welcomed and offered my choice of pre-departure beverages and asked if I wanted a hot or cold towel. Shortly after, I was presented with a Ferragamo amenity kit, pajamas, and a packet containing eyeshades, socks, and earplugs. Toothbrushes and shaving kits were available in the lavatories.
Unfortunately we took off a full hour later due to cargo loading.
First Class Amenities
Being a travel junkie, I have seen hundreds of trip reports for international first class and business class featuring airlines from around the world. Several of the onboard amenities that Qatar Airways provides to their business class passengers are the ones typically standard for international first class only. Some of the extras I noticed:
Choice of hot or cold towels
Food and beverage menus presented in an elegant leather portfolio
Salvatore Ferragamo designer amenity kits
Pajamas
The biggest, and most deluxe eyeshades I have ever seen on an airline
Personal Evian water bottles
Qatar Airways' branded seat belts containing their logo as well as a lit up gazelle in the mid-cabin galley added to the elegance. The cabin was fitted with mood lighting, which I think actually allowed me to feel more rested upon arrival in Singapore, though I may have been on a cloud with the service and amenities.
Seat
The seat is one of the more impressive I have seen for business class. While complete 180º lie-flat seats are becoming increasingly common, not all are created equally. Many airlines have opted for seats that are angled and face away from the windows, contain narrow foot wells that constrict leg and foot space, or require the passenger to actually get up so that the seat can be transformed into a fully lie-flat position. The Qatar seat area was relatively unobstructed and the seat faced directly forward. As a 6'2 individual I have occasionally run into issues where the fully flat seat has become a bed that is too short for me; not an issue on the Qatar plane. Another impressive feature was the speed at which the seat reclined. It was certainly the fastest I have seen any seat switch positions. If one of three preset positioning buttons was firmly depressed even for one second, the seat would move to that position automatically, where as most seats require the passenger to keep the button pushed down until the seat reaches its intend position. The seat had two different strong vibrating massage features. There was also a massive storage box on the floor at the very front of each seat.
Onboard Dining
One interesting aspect about Qatar is that instead of serving a traditional four to six course meal for all passengers which most airlines do internationally in business class, Qatar takes a dining-on-demand approach like a small handful of other airlines. Following this method, a menu with several entrée dishes is presented to passengers so that the passenger can select one or many meal choices and have the food when the passenger finds it most convenient. The menu choices included items that would be available in a traditional business class meal such as appetizer plates, salads, entrées, and dessert. Passengers can have as many dishes as they like, creating a customizable meal. I find this system is superior so that passengers can choose to sleep at the beginning of the flight and have their meal later or perhaps a snack on their own time. Since this was my only opportunity to experience Qatar long haul in business class, I indulged. I ordered several delicious plates such as a mezze platter, seasonal salad, scallops, shrimp, chicken tikka wrap, and chocolate chip cookies. Essentially, I created my own tasting menu. Later on, there was a pre-arrival breakfast which included a personal breadbasket, another presentation that is often only reserved for international first class. Once again, I ordered several dishes. I had entrees including a fruit platter, scallops, eggrolls, and noodles.
With each new plate, the flight attendant stood in front of the passenger, and placed the plate on the tray table with a brand new fork and knife. When I ordered wine, the flight attendant brought the bottle on a tray, presented the bottle, poured a bit for me to taste, and upon approval, filled the glass just like at a fine restaurant. Additionally, there was a wide variety of juices including smoothies and freshly squeezed orange juice, which was the best freshly squeezed OJ of any plane I have been on.
Upon Arrival
Because of the late departure from Doha and subsequent late arrival in Singapore's Changi airport, I had only twenty minutes to make my departing flight to Bangkok. As I was ready to start my dash to try to make my connection, I noticed a representative who was holding a sign with my name on it. She informed me that I would be unable to make the next flight due to the time constraint. The representative explained that she had rebooked me on a Thai Airways flight much later into the evening. Even more impressively, she escorted me and stayed with me, walking me to the next terminal so I could obtain a boarding pass at the transit counter. There was a complication with the booking, with Thai Airways unable to confirm the seat due to the fact that I was an award ticket. Although this is not supposed to happen under Star Alliance Irregular Operations guidelines which I am well versed in, the end result was more ideal. The Qatar representative worked to get authorization from her supervisor for Qatar Airways to buy a ticket in business class on Bangkok Airways for me, nonstop to Koh Samui, my final destination.
With the exception of international first class, VIPs, and extremely high revenue customers, this type of a personal assistant sticking by the side of the passenger is something I have only seen on Qatar, which is truly a mark of a five star airline. The agent even made sure that I was allowed in the lounge that Bangkok Airways contracts with, despite not having the boarding pass yet or an invitation.
Overall, Qatar Airways successfully spoiled me and created one of the most memorable flying experiences for me to date.